Jewelry Store Security - Commercial Security Shutters
As a jewelry store owner, you know that your valuable inventory requires maximum protection. A single act of burglary or vandalism can devastate your business. This risk has become even more critical in recent times – with the surge in property crime across Toronto, Mississauga and the GTA.
To keep your jewelry store safe, you need reliable security that provides robust protection against burglary and vandalism.
Our security shutters provide this level of protection. Whether you choose our aluminum or steel options, security shutters and roll up doors can protect the exterior and interior of your jewelry business from intruders.
The team at The Rolling Doors has been providing security for jewelers across the GTA for over 15 years. Our security shutters are available in a range of colors and come with locking options to meet your specific needs. We offer FREE QUOTES and security consultations so get in touch with us today to start protecting your merchandise.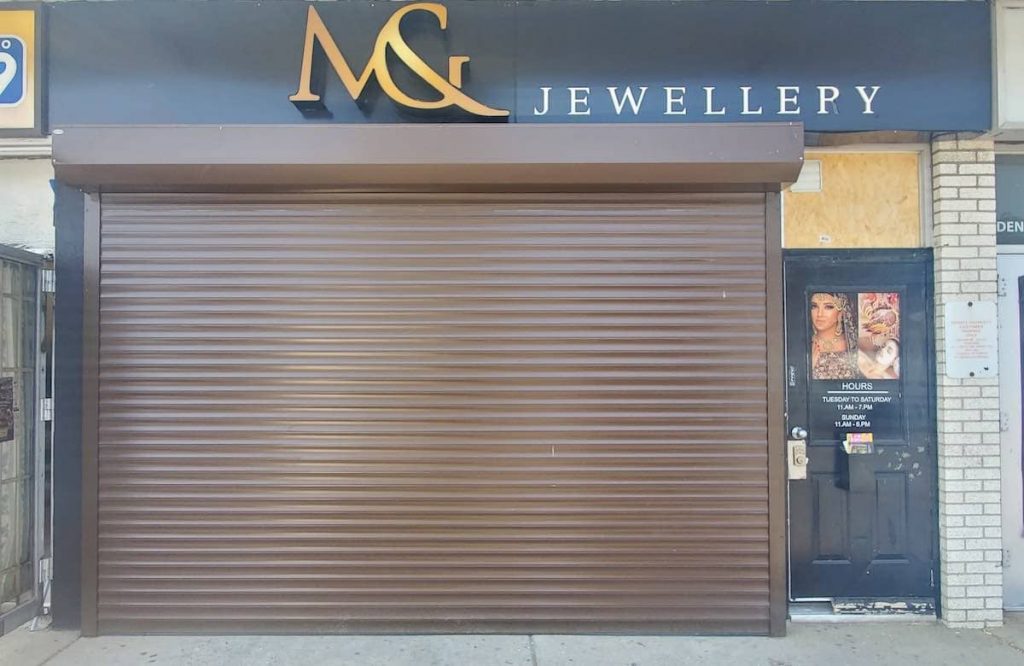 Storefront Security Shutters
The storefront is the face of your jewelry store but can also serve as the first line of defense against burglars. Our storefront security shutters provide top-tier protection for your shop windows and doors – protecting them from vandalism and burglary.
We offer two different materials for you to choose from:
Aluminum – Durable and lightweight with a polyurethane core that provides temperature and noise insulation
Steel – Heavy duty and built to withstand the toughest of encounters
Our security shutters are not only secure but come in a variety of colors. The most popular choices are white, gray and black – and we can also deliver custom colours to match your brand and storefront design.
Most important – our shutters and roll up doors come with secure locking mechanisms. Your shutters will remain firmly closed and protected against forced entry.
We offer automatic latching and locking systems along the rails, and you can add an exterior padlock for added security. Our shutters also have an automatic opener option, allowing you to open them via Wi-Fi, remote control or a wall-mounted keypad.
One of the main advantages of our security shutters is that they roll up neatly into a compact storage box, saving interior space compared to traditional overhead door solutions.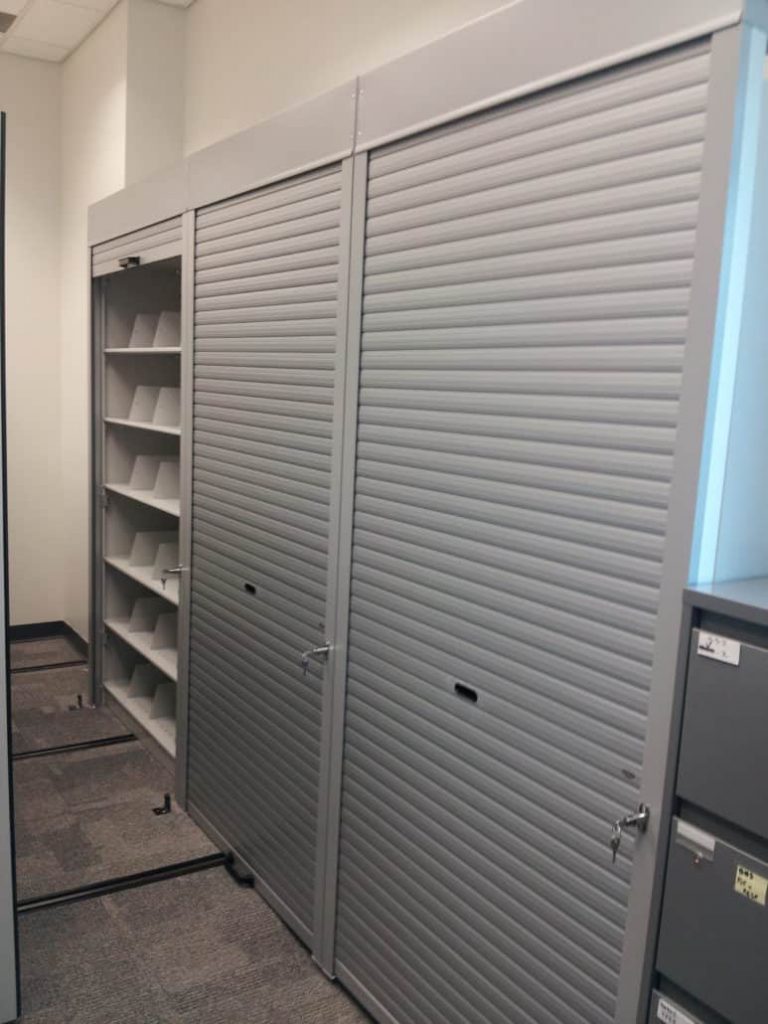 Interior Security Shutters
In addition to protecting your storefront, you also need to secure your store's interior to keep your valuable merchandise safe.
Our interior security shutters can be installed over your store display areas to protect your merchandise, such as rear shelving behind the counter. Our interior shutters are also made of durable materials and come in a range of colours, allowing you to customize them to match your store's interior design.
This adds a second line of defense and will ensure the safety of your product while you're not there. The design and size also means they won't take away from your store's existing decor, as we make it a priority to provide security without having an overbearing presence.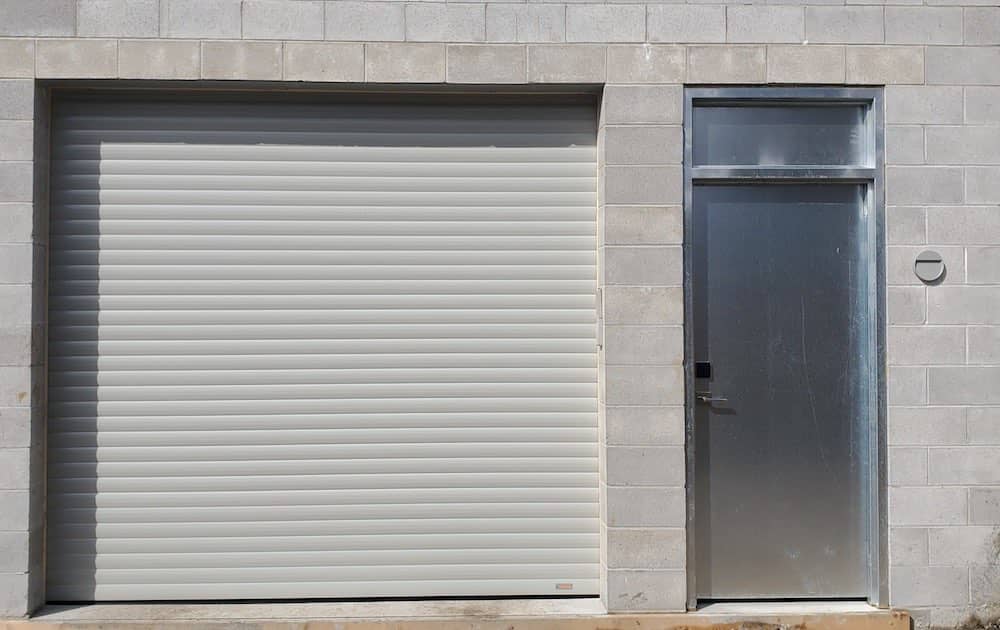 Roll Up Doors for Back Door Security
The back door of your jewelry business is another vulnerable point often targeted by burglars. This significant entry point provides access for an assailant to pull up, break-in and get out unseen. The rear entrance is usually located in an alleyway which only makes it easier for intruders.
Our roll up doors provide a robust security solution for the store's rear entrance. They are available in either steel or aluminum and come with the same locking and opening options as our security shutters.
Roll Up Doors for Interior Security and Storage
Our roll up doors can provide high level security for not just your jewelry store's exterior – but for the interior as well. They can be used for secure storage or to partition parts of the business.
Use our interior roll up doors and shutters for:
Creating storage space for securing inventory
Separating different areas within the building i.e. back office
Protecting machinery and tools from unauthorized access
Contact Us Today for Jewelry Store Security Shutters
At The Rolling Doors, we are committed to providing jewellers with reliable security solutions to protect their valuable merchandise. Our team will work with you to design a security shutter and roll up door solution to meet your particular needs.
Contact us today by phone or online contact form to begin a free consultation and get a FREE QUOTE for commercial security shutters. We also install security bars for windows for those looking for a lower cost solution.
Fields marked with an
*
are required.