Roll up doors of steel or aluminum are the perfect solution for securing your outdoor shed.  Whether for your garden shed at home, or a commercial storage shed – a roll up shed door can provide security while looking great too. Our professionally installed rolling doors are secure, durable and pleasing to the eye.
Roll up shed doors open and close similar to overhead garage doors.  However they take up far less valuable storage space inside the shed.  This is because they roll up into a storage box installed directly above the door frame.
We have been designing and installing roll up shed doors throughout Southern Ontario over 10 years.  Our customers ask us to install them in the most interesting spaces – and we always try to match their vision by installing beautiful roller doors.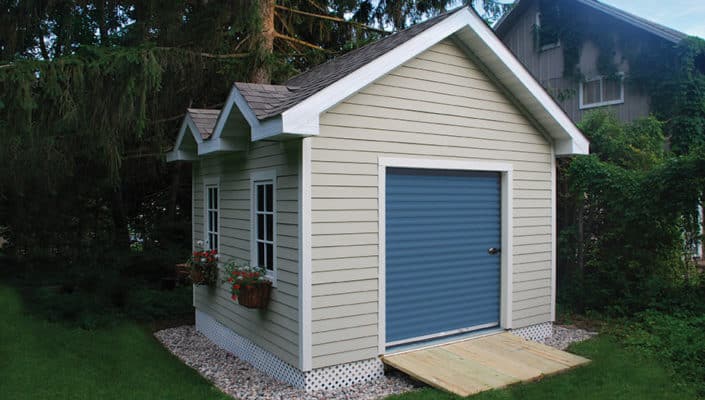 Some of the places (or sheds!) we install roll up shed doors:
garden sheds
tool sheds
storage sheds
carports
"she sheds"
workshops
barn sheds
farm sheds
outdoor offices
greenhouses
workshops
garages
food vendors
Benefits of Roll Up Doors for Sheds
Shed roller doors are designed to elevate the security and aesthetics of your outdoor shed.  They have several benefits that could make them the perfect choice for your new shed build or upgrade.
Benefits include:
The biggest advantage of roll up doors for sheds is that they protect and secure your property against break-ins. When closed, roller doors have a firm seal with the tracks as well as the bottom door frame. Each door that we install will have the same high security lock / latch system found on commercial storage lockers. Any would-be intruders will have to think twice before attempting to gain access to your shed.
Metal roll up doors – of either steel or aluminum – are durable and built to last for decades. They are durable against wear and tear as well as whatever mother nature can throw at them.  
Our doors can withstand the harsh weather and climate of Canada, whether it be snow, sleet, hail, sun or hurricane force winds. They are particularly effective standing up to any debris being pushed around by strong winds.
Our roll up doors are resilient and won't require any upkeep or maintenance for many years. The many shades of factory paint will stand up to many years of sunshine. We offer a warranty on our products and services so be sure to inquire with one of our professional installers.
Save on heating and cooling
Some sheds require temperature regulation. This is often the case for commercial sheds or workshops, and also applies to climate controlled storage facilities.  Roll up doors made of aluminum are particularly effective at maintaining the temperature of your shed.  This is because they are fabricated with three layers – two sections of aluminum for the shell and a core of polyurethane foam for insulation.
Insulated roll up doors will help to keep your shed warmer during the fall, winter and spring.  They also prevent your shed from becoming an oven in the summer. If you have a commercial facility requiring temperature control, insulated roll up doors can help reduce your heating and cooling bill.
Modern design with colour options
Roll up doors are a growing trend for homeowners. They are becoming a popular choice for garage doors because the clean, modern look of shutters is in-line with current design trends.  Their popularity for home garages means that people want them installed on their garden sheds too.
Our roll up shed doors come in a variety of colours so you will have plenty of options for upgrading the look of your shed.  The factory paint is resistant to damage from sun, rain, snow and road salt.
Save storage space inside your shed
Outdoor sheds are great for extra storage space, but no matter the size of your shed it eventually fills up!  This problem is made worse if you have traditional overhead doors that take up space inside the shed when opened. 
The design of roll up shutters means they are a real space saver.  When opened they roll up into a compact storage box that rests above the door frame.  This specialized design means you can better use the storage space inside your shed.  You can also store large items that stack almost to the ceiling with no bulky overhead door in your way.
Cut-to-size for custom doors
Our team of professionals can install roll up shed doors for door frames measuring anywhere from 3 feet x 3 feet to 11 feet x 11 feet – customizable in
1 inch increments
.  Our steel and aluminum models are also available in different stages of thickness, depending on your desired level of durability and security.
Steel vs Aluminum Roll Up Doors for Sheds
Our roll up doors come in either steel or aluminum.  Both types are durable, low maintenance and come in a variety of colours. When choosing which metal it is important to assess your needs for your shed door.
Pros of Steel Roll Up Doors
The best choice for strength and durability. Not only do they resist damage from any debris but are durable against wear and tear also.

Steel is the best choice if you need the highest level of security. Nothing protects like a steel door and intruders don't stand a chance. The locks we install are safe-guarded against bolt cutters.

The door's material is manufactured to minimize rust and corrosion. Factory paint is baked onto galvanized steel that is later coated in a durable plastic coating. This helps to protect against the elements.

The steel option is generally cheaper than aluminum.
---
One thing to consider is that steel roll up doors will require machinery to install. They are heavy enough that our installers will use forklifts to align the doors in the tracks. Because of this, we can only install steel doors in areas accessible to small vehicles.
Read more about steel rolling doors.
Pros of Aluminum Roll Up Shed Doors
Aluminum roller doors can come with insulation.  The fabrication has two aluminum outer layers and a polyurethane foam core.  The insulated core increases the R value – meaning the thermoregulation is better.

The foam core also makes the door very durable.  If debris hits the door the foam protects against dents.

Aluminum is lighter to handle and doesn't require machinery to install. This means we can install them in more locations than steel doors.

The light weight of aluminum means that motorized opening and closing is possible.  Be sure to inquire about adding an automatic door opener to your setup.

Aluminum roll up doors are generally come with a higher price tag.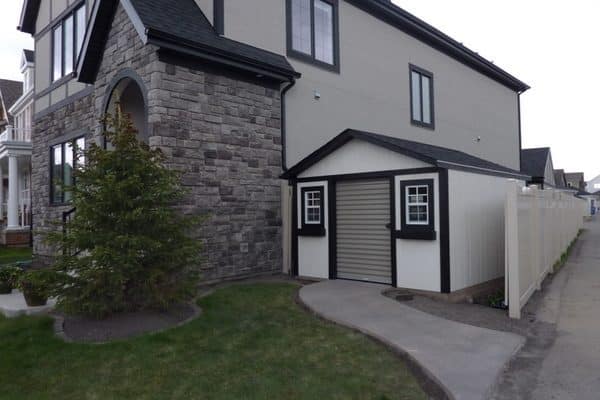 Contact Us Today for a Free Quote
If you require a new roll up door for your shed, garage or storage area, fill out our contact form for a free quote.  We can send you quotes for both steel and aluminum options.  We have over 10 years experience designing creative roll up door solutions for your projects so get in touch today for a no-commitment, no-hassle quote from one of our experienced installers.
We are one of the top-rated suppliers of roll up doors in Southern Ontario.  Get in touch today!
Fields marked with an
*
are required.
therollingdoors.ca@gmail.com