Steel roll up doors are the best choice for homeowners and businesses that need the highest level of security at an affordable price. Steel is one of the most secure and durable materials for your door – and the latches on our doors guard against bolt cutters being applied to them.
Our doors look great too and come in a variety of different colour options. The colour is durable also and will stay looking vibrant – standing up to the outdoor elements as well as debris pushed by the wind.
Our team has been installing steel roll up doors across Ontario for over 15 years and can help you to design and install security shutters to suit your home or business perfectly.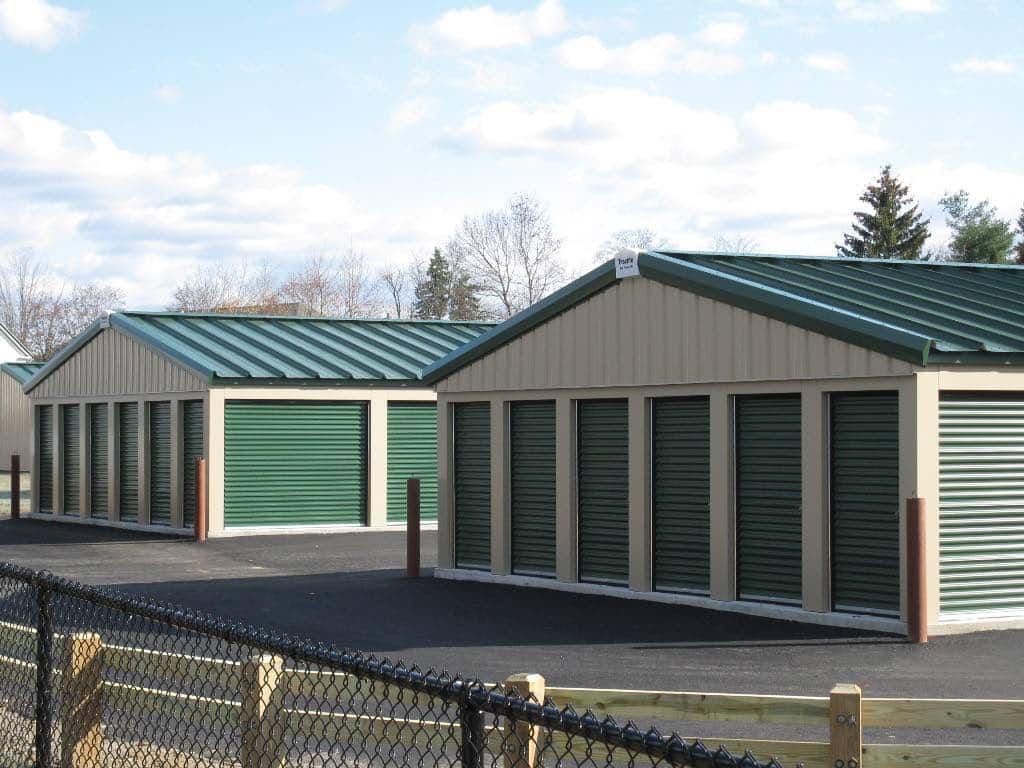 Benefits of Steel Roll Up Doors
For homeowners and businesses, we supply and install roller doors of either aluminum or steel. Both have their own strengths and the ideal choice depends on our customer's particular situation and preferences.
The main benefits of steel roll up doors are:
Our steel doors are constructed with 26 gauge grade 80 galvanized steel for the ultimate in strength and security while still being light enough to lift by yourself. Whether you are building out commercial storage lockers or your family's garden shed, you can rest easy knowing that steel shutters are keeping your valuables safe. Potential intruders probably won't even bother with your steel door – especially with the overlock option that blocks off bolt cutters.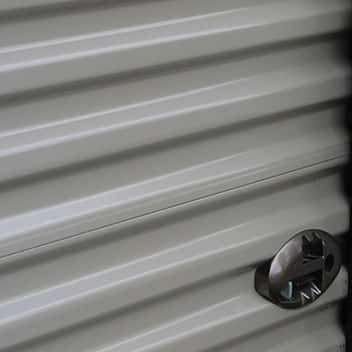 Steel roll up doors stand up to more than would-be intruders. The door's materials – rust resistant galvanized steel and a silicon outer layer – will stand up to the outdoor elements as well. Ontario is a region with an extreme climate and any outdoor structure will be subject to wind, precipitation, sunlight and road salt. Our steel rolling doors will repel these harsh elements while keeping its bright paint finish – which doesn't require any seasonal maintenance.
Both the steel door and the outer layer are also resistant to damage from flying debris. High winds can send debris flying against your structure and there is also the risk of a tree falling on your property. Steel doors are the best option if you want to guard against any dents that may affect operation of the rolling door.
All our steel doors come with high wind load specifications that are available on request. The exact wind load PSF rating will depend on the dimensions of your custom door.
Steel roll up doors are a less expensive option than aluminum.  Since they are more durable and dent-resistant also, maintenance bills isn't something you'll have to worry about.
A limited selection of our steel roll up doors come with a 3 years materials warranty and a 30 year paint warranty – so be sure to inquire about this with one of our representatives.
Colours to match your style
Steel roll up doors come in different colour options – 17 shades to be exact. We're sure that you will find a colour to suit your style and match the design of whatever structure you are working on. If aesthetics is important for you, then be sure to ask for the option with a 30 year paint warranty.
Require less interior space than overhead doors
One of the prime benefits of steel rolling doors is how efficiently they roll up when opened. The entire steel curtain rolls up into a small container box that is installed above the door frame. This efficient use of interior space means that you will have more room inside the structure to use as storage. Your space near the ceiling won't be blocked by a bulky overhead door and so you can stack items higher.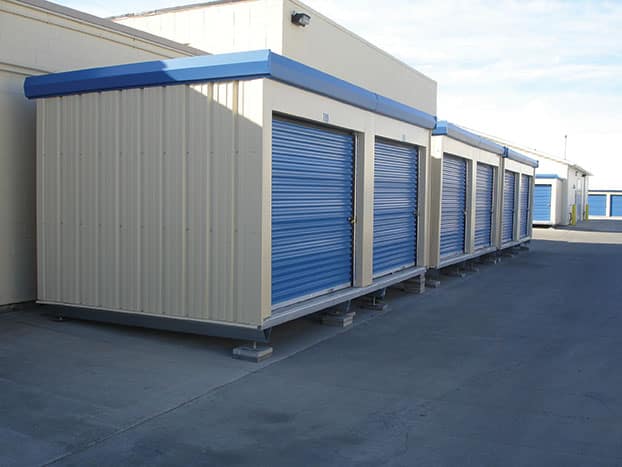 Cut to size for most door frames and openings
Our team can install steel roll up doors for frames and openings measuring anywhere from 3 feet x 3 feet to 11 feet x 11 feet – customizable in 1 inch increments. Our steel doors are also available in different levels of thickness, based on your desired level of durability and security.
Different Applications for Steel Roll Up Doors
We have been installing roll up doors for homeowners and businesses in Ontario for over 15 years. We are always surprised at the interesting custom jobs our customers ask about – and we are always happy to deliver!
Some of the more common applications for steel roller doors are:
commercial storage lockers / self storage
greenhouses
garden sheds
security shutters for windows
warehouse doors / loading docks
agriculture buildings / barn doors
workshops / auto shops
boathouse doors
utility sheds / equipment sheds
Steel roll up doors will require specialized machinery for our team to install.  In most cases, we use a small forklift due to the sheer weight of the steel curtain.  So we can only install steel roll up doors in areas that we can access with our machinery.
Contact Us Today for a Free Quote
If you are interested in steel roll up doors for your storage lockers, garden shed, or any area you can think of, then fill out our contact form for a free quote. We can send you a quote for steel roll up doors and you can compare them to aluminum options as well. We have over 15 years experience installing steel roll up doors for homeowners and businesses so get in touch today for a no-commitment, no-hassle quote from our team.
We are one of the top-rated installers of roll up doors in Southern Ontario.  Get in touch today!
Fields marked with an
*
are required.
therollingdoors.ca@gmail.com