Cabana Shutters & Cabana Roll Up Doors | Greater Toronto Area
BLACK FRIDAY SALE!

20% OFF

CABANA SHUTTERS INSTALLATION INCLUDED
BLACK FRIDAY SALE!


20% OFF

CABANA SHUTTERS WITH INSTALLATION INCLUDED
A cabana or pool house is an amazing addition to your backyard pool area. They are great for entertaining guests – becoming the hub for your outdoor recreation.
For many businesses, cabanas are an important part of providing hospitality in the summer.
Roller shutters are the best option for opening and closing cabana bars, windows and countertops. Aluminum shutters offer security and convenience with easy operation.
Shutters are also adaptable to roll up doors, which can be installed as the main doors for your pool house. Roll up doors are one of the most secure types of door on the market.
Both our window shutters and roll up doors have polyurethane foam insulation with thermal regulation properties. This helps keep your pool house cool in the summer and warm in the off-season.
At The Rolling Doors, we have over 15 years' experience designing and installing roller shutter solutions for homeowners and businesses across the Greater Toronto Area.
We provide FREE QUOTES on all roll up installations, so get in touch today to start improving your cabana or pool house.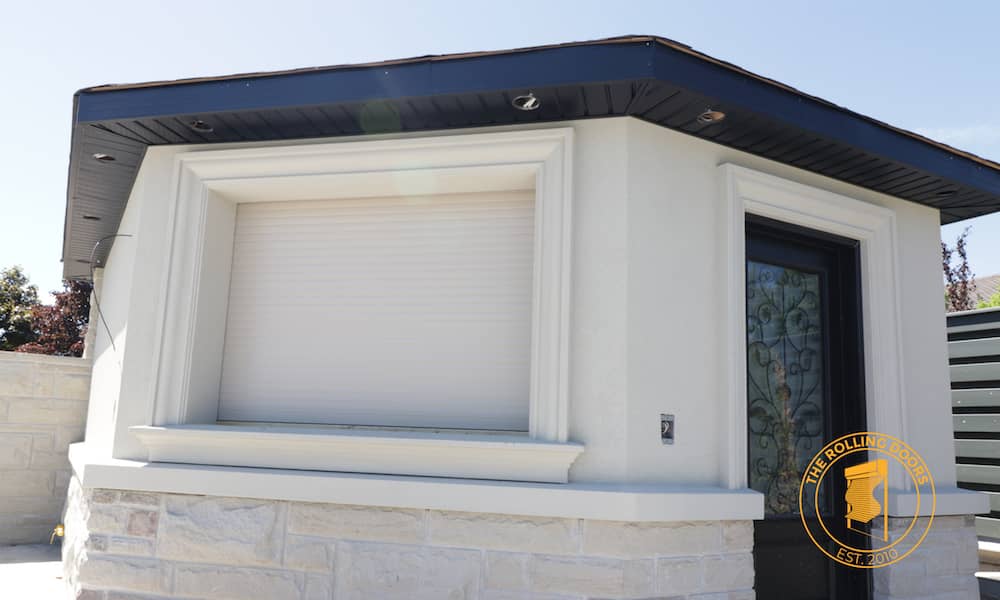 Benefits of Cabana Window Shutters
Homeowners and businesses enjoy several key benefits from our roller shutters and roll up doors:
These benefits include:
Open and close your cabana quickly while saving space
When it comes to convenience and saving space, roller shutters are the best choice for your cabana. Our window shutters are easy to open and close, and roll up into a compact storage box when opened.
This storage box is installed above the cabana window and can be hidden from view on the inside of the structure.
Protect your cabana from bad weather and potential intruders
Our roller shutters offer the best defense against the harsh Canadian elements – as well as unwanted intruders. This is due to their triple-layer fabrication of aluminum and polyurethane foam. This durable construction not only shields your cabana from harsh weather conditions like wind, rain, snow, ice, hail, and intense sunshine but also provides unparalleled security.
Our shutters and roll up doors cannot be pierced or punctured with burglary tools, ensuring your belongings are protected. The spring-loaded closing mechanism means that the shutters cannot be forced open.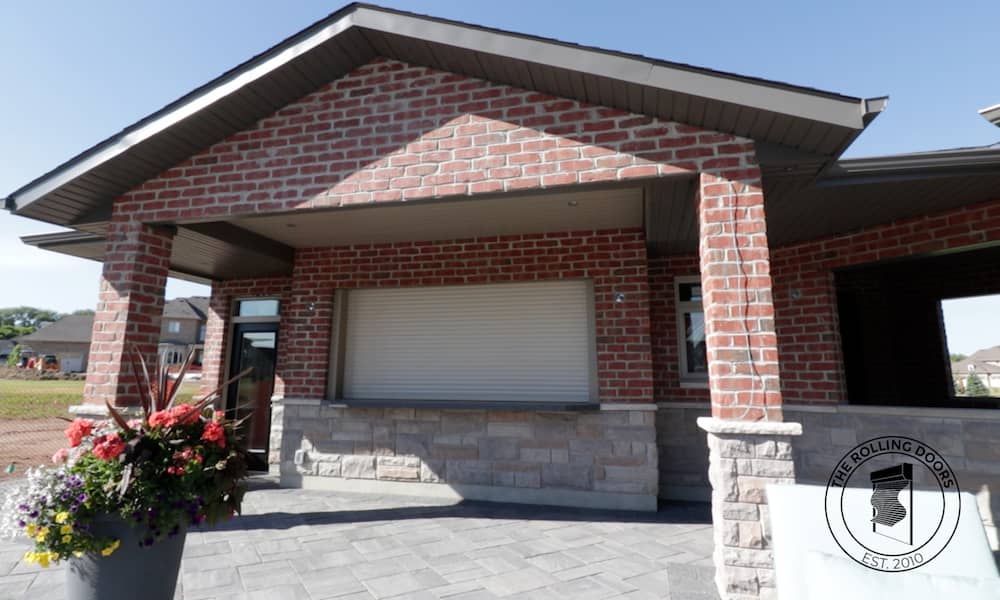 Different automatic opener options available
Cabana shutters can be opened and closed manually, or you can opt for an automatic opener. Motorized openers with different security options can be beneficial for businesses or families that want different people to access the shutters – without having to worry about a physical key for locking.
For automatic openers, the different access control options that we install are:
Remote control – similar to a garage door opener, you can open and close with one click. The remote control is small enough to fit in your pocket.
Wall mounted keypad – set a numeric password so that different people can open and close the shutters.
Smartphone app – this solution will require the shutters to be connected to a wifi network. The smartphone app will allow you to open and close the shutters via your mobile phone's data connection. You can then operate the shutters from anywhere you have a data connection.
* Please note that for larger pool house roll up door installations, that either a motorized opener or manual hoist must be installed. Roll up doors for wider door frames are too heavy to be operated safely by hand.
Better regulate temperature with insulated shutters and doors
Our insulated shutters and doors feature a practical triple-layer design: two layers of durable aluminum with a polyurethane foam core. This foam core has thermoregulation properties which means your cabana or pool house is cooler in the summer and warmer in the off-season.
Insulated roll up doors are particularly useful for pool houses with living areas – for example, when your pool house has a guest bedroom.
For simple poolside cabanas, insulated shutters mean that any of your belongings stored inside (especially drinks and snacks) don't stay extremely hot when the cabana is closed.
Modern look for your pool house doors
Many of our customers enjoy the modern, minimalist design of roller shutters and how it complements their pool house's exterior. Roll up doors are a modern design trend found in the latest design magazines and Instagram and Pinterest accounts.
Our doors and shutters are available in a range of neutral colours to complement your cabana or pool house. We currently offer: white, black, brown, grey and shiny anthracite grey.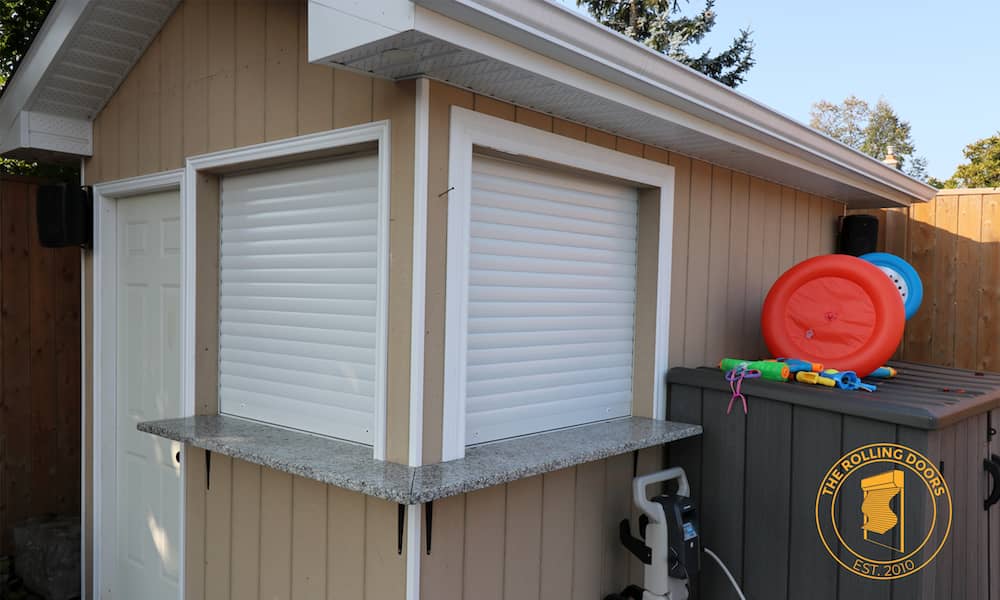 Thinking of upgrading to a high security garage door? We design and install roll up garage doors for homeowners and businesses.
Contact The Rolling Doors for a FREE QUOTE
To learn more about cabana shutters and pool house roll up doors, get in touch with us today and get a FREE QUOTE. A member of our team will answer any questions you have regarding design or installation.
Give us a call or fill out our email contact form below.
We have over 15 years' experience designing and installing roll up doors and roll up shutters. For cabana shutters we are ready to assist both homeowners and businesses with the best solution for their needs.
We are located in the Greater Toronto Area and all our products and installation services are delivered under warranty.
Fields marked with an
*
are required.