Commercial Security Shutters to Protect Your Business
BLACK FRIDAY SALE!

20% OFF

SECURITY SHUTTERS INSTALLATION INCLUDED
BLACK FRIDAY SALE!


20% OFF

SECURITY SHUTTERS WITH INSTALLATION INCLUDED
For business owners with a storefront or doorway, security needs to be a higher priority these days. Unfortunately crime, break-ins and vandalism are becoming more common in Southern Ontario and many business owners are investing in commercial security shutters.
At The Rolling Doors we install commercial security shutters in both aluminum and steel options. There are other features to choose such as automatic opener, lock / latch type, shutter thickness and a variety of colours.
No matter your preference, our security shutters are installed by our expert team that are ready to meet your security needs. With our security shutters, there is no better way to protect your business.
We send out FREE QUOTES everyday so give us a call or fill out our contact form – and be in touch with our mobile management team!
We also install window security bars for home and business. This can be particularly useful for basement windows.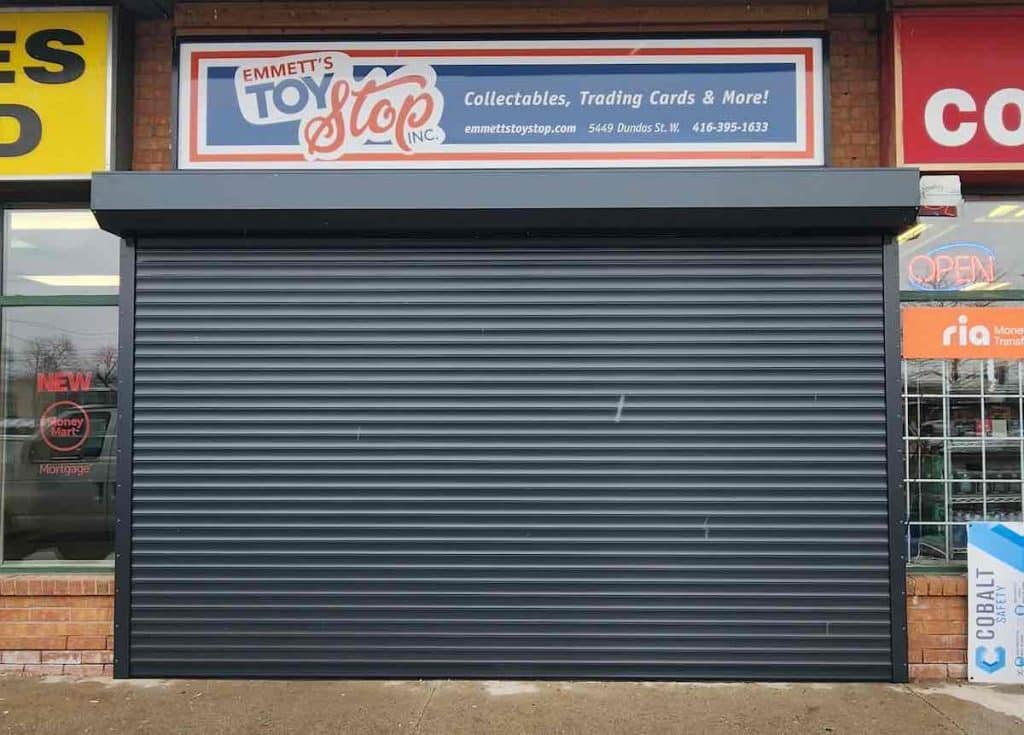 Delivering Window Security for Businesses in Southern Ontario
As a business owner you've invested countless hours of work into your company, as well as many thousands of dollars. It's critically important to protect this investment, especially with the recent increase in crime and break-ins throughout the Greater Toronto Area.
Commercial security shutters (aka roll up doors) are a very popular choice for business owners to protect their storefronts and shut down access points to their property. Security shutters provide a physical barrier between your business and would-be criminals, deterring break-ins and keeping your property safe. They can be installed in both window frames and door frames, acting as either a window shutter or roll up door.
At The Rolling Doors we have more than 15 years of experience in commercial security shutters. You can count on our experts to find the best possible solution based on your security needs and business space. There are many different options to choose from, and it's essential to find the right combination of features for your business.
We help many different types of business throughout Toronto and Southern Ontario:
Jewelry stores
Cash for Gold
Cannabis dispensaries
Financial services
Electronics and cell phone stores
Hobby and collectible stores
Tattoo studios
Warehouses and distribution centres
Convenience stores and gas stations
Supermarkets
Car dealerships
College campuses
Self storage lockers
No matter what type of commercial security shutter you choose, make sure it's installed by a professional. This will provide the highest level of protection for your business.
Contact the experts at The Rolling Doors today for a creative solution and design to fit your specific needs. Give us a call or fill out our contact form to request a FREE QUOTE.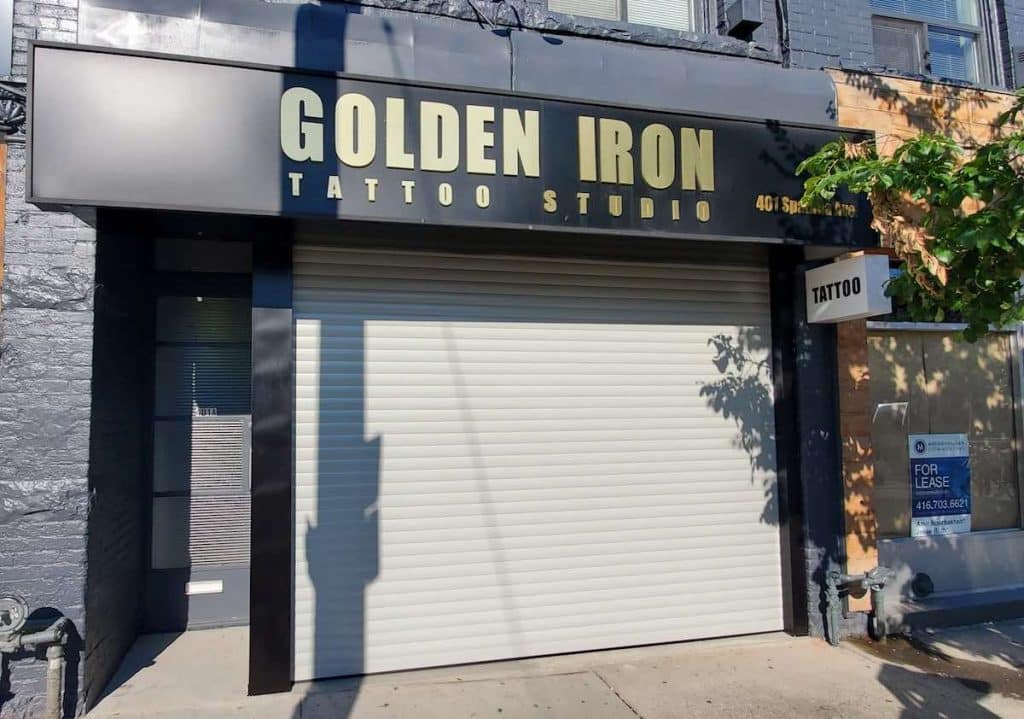 Features of Commercial Security Shutters
There are many reasons to choose commercial security shutters for your business. Here are just a few:
Choose Your Material: Aluminum or Steel
Our security shutter and roll up doors come in either aluminum or steel. Both are brilliant at defending your business, but there are obvious differences between the two.
Aluminum is more lightweight and will include more insulation which helps with temperature regulation. Steel is more durable but also heavier, and does not allow for the motorized option.
For aluminum shutters and roll up doors:
Our Shutters Have 2 Layers of Aluminum with Insulated Core
Aluminum security shutters are strong and resistant to break-in attempts and tool attacks. At the same time, they are light enough to be operated manually or with an automatic opener.
The insulated core of polyurethane foam provides both physical protection and temperature regulation. Aluminum is more vulnerable to denting from wind debris or vandalism but the foam core protects against this.
The polyurethane foam core gives your shutters or roll up door an R insulation rating for thermoregulation. This means the shutter will deter heat transfer from your property to the outdoor environment. This will help you save money on heating during the winter and air conditioning during the summer.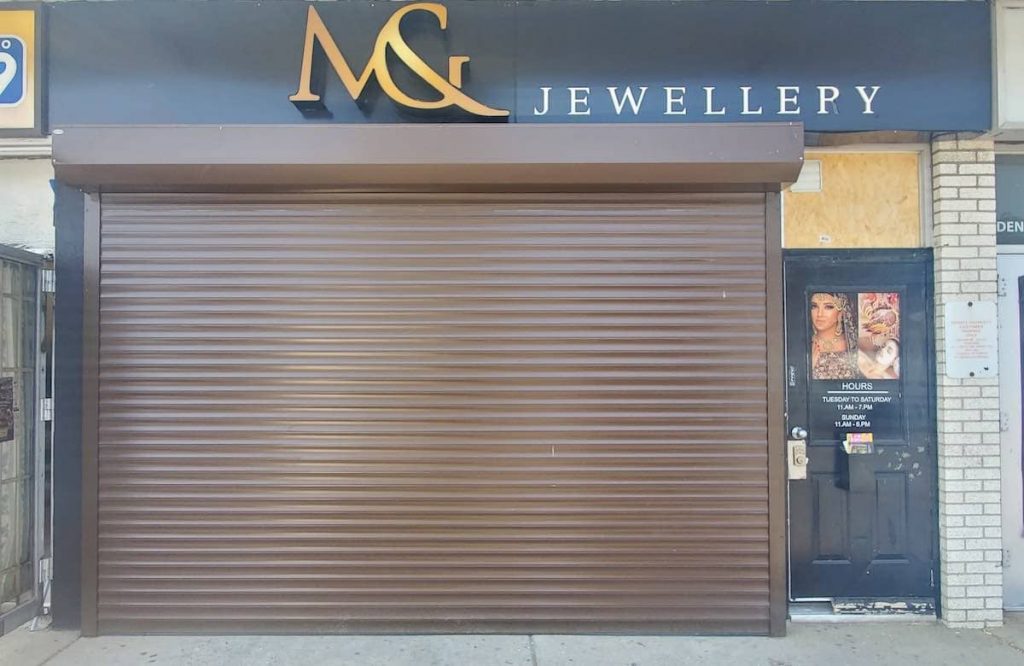 Steel Roll Shutters for the Highest Level of Security
Our steel security shutters are fabricated from 26 gauge grade 80 galvanized steel for the highest level of strength and security. Steel is also a less expensive option than aluminum, but the assembly is still light enough for you to lift by yourself.
For business owners that need the strongest and most durable option on the market, steel is the obvious choice because it can stand up to burglary tools better than any other material. These are the same type of shutters that are found on self storage lockers where security is the highest priority.
Save Space with Rollup Open and Close
Our security shutters and roll up doors save you a ton of space compared to traditional overhead doors. This is because when the shutters are opened they roll up into a small box that rests above the door frame. They essentially roll up like a carpet into the smallest possible storage space.
Traditional overhead doors (i.e. garage doors) take up space near the interior ceiling when they are opened. But our security shutters allow you to use all your interior space for your business and customers.
Security Shutters Available in Different Colors
Security shutters and roll up doors can provide a clean, modern look to your storefront or window counter, especially when the colour matches well with your property. We offer several colour options for commercial security shutters.
The most popular colours for business owners are black, white, grey and brown.
Custom colours – red, yellow, orange, green, blue – are available on request, so contact our team today and we will check availability.
Options for Secure Locking of your Security Shutters
Our security shutters close with a flush seal against both the side of the door frame and the floor. They are designed to have almost zero access points for burglary tools. However, you will need to access your shutter or door via the lock and we provide different options here based on your security needs.
We offer:
Side bolts
Cylinder locks
Auto lock mechanisms
Deadbolt locks
For aluminum doors, we offer the automatic opener option. This allows you to open and close your security shutters at the touch of a button. Our expert team can help set up either a remote control or a keypad with security code to control your automatic opener.
The friendly staff at The Rolling Doors is ready to assist with whatever your specific needs are! With over 15 years of experience, we can help with a solution to meet your requirements and overcome any design obstacles you might face.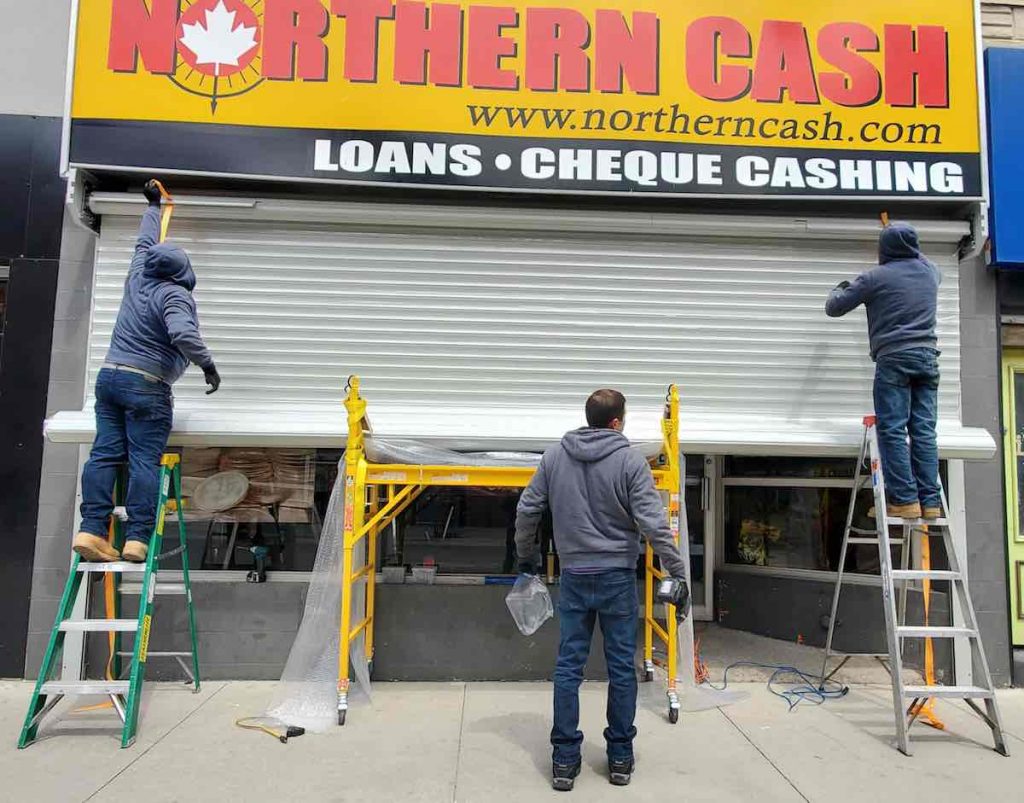 Considering a Roller Shutter to Protect your Business? Contact Us Today
At The Rolling Doors we have over 15 years experience helping business owners solve their security challenges with commercial security shutters. Get in touch with us today! Give us a call or fill out our contact form to be in touch with our design team. We will be happy to help with a solution to meet your requirements and overcome any design obstacles you might face.
We give out FREE QUOTES every day so get in touch and find out why The Rolling Doors is Southern Ontario's best choice for business security!
Fields marked with an
*
are required.